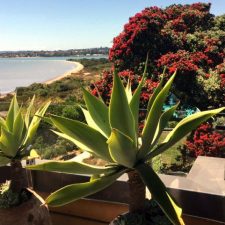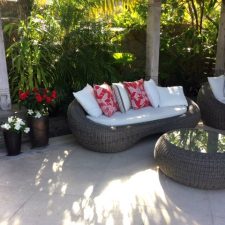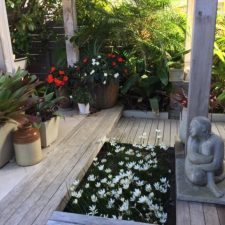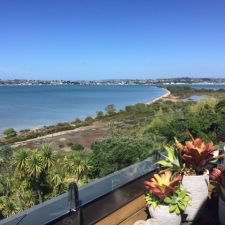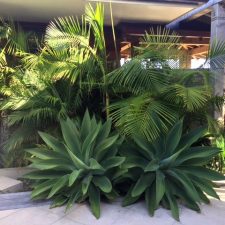 Are you looking for an intimate wedding venue in Auckland?
As well as my celebrant role, I'm also happy to provide extra services too, to make your day flow as easily as possible. These wedding planning ideas may be helpful if you're visiting from overseas. Perhaps to take advantage of our liberal and progressive same-gender marriage equality laws – or if you'd prefer to have all your wedding preparations dealt with by one person.
I can give recommendations for a florist, catering, photographer, venues, accommodation and whatever else you'd like. I can organise your wedding cake and provide two witnesses as well. I can advise you on the legalities of getting married in New Zealand, and can even help with your wedding vows.
And as an added bonus, you have the option of using my beautiful house as a wedding venue.
It looks out onto the Auckland Harbour and the panoramic views from the deck are quite special. Whether it's a bright sunny day, a moody, cloudy afternoon, or a warm summer's evening. The drama and excitement of Auckland Harbour makes a wonderful backdrop for stunning scenic wedding pictures.
Or you could choose to exchange your vows in the enclosed surroundings of the Balinese-style courtyard. Lush with ferns and redolent with fragrant flowers. It's a beautiful setting in which to declare your commitment in front of family and friends.
These two options are ideal for those couples who would prefer a small, quiet, intimate ceremony. Not everybody wants the fuss and drama of a big wedding day! And my private residence is the perfect alternative to a Registry Office. You have the advantage of celebrating in a secure, beautiful venue. Without the impersonal surroundings (and random strangers) that you may find in a public building.
For those same-gender couples whose country of birth may not allow marriage, or whose family and friends may not be fully supportive of your relationship. My home offers discreet and peaceful surroundings in which you can declare your love. And you can rest assured your ceremony will be kept absolutely confidential if you wish.
Both the ocean-view deck and the courtyard garden cater for up to eight guests.
This makes it the perfect choice for those couples who are travelling from other areas, and whose family and friends might not be able to make it on the day.
And after the ceremony, you can relax and celebrate with delicious nibbles and champagne. It's so easy!
By choosing my home as a venue, you'll also have the advantage of being right in the heart of Auckland. This is a fabulous cosmopolitan city in which to spend your honeymoon. Or as a starting off point to explore the rest of beautiful New Zealand.
If you're looking a marriage celebrant and an intimate wedding venue in New Zealand's biggest city, contact me now. I provide many additional wedding services, and will do my very best to ensure your special day is made all the more memorable.
For an intimate wedding, celebrant services and assistance with arrangements – all in the beautiful Auckland, New Zealand contact Sheryl Mungall today!
Package One

NZD$1290.00

Celebrant services $ 500.00

Includes consultation, administration, email communication.
Preparing a personal wedding ceremony.
Presenting it on the day.
Two witnesses required by New Zealand marriage law.
A copy of the ceremony on fine paper as a keepsake.
A folder to keep the ceremony in.

Residence as your venue hire: $650.00

Includes use of my home, deck or Balinese courtyard garden.
Both suitable if weather wet or windy.
Champagne or celebration drink of your choice. Champagne glasses provided.
Wedding cake ($80.00) made by one of Aucklands top cake makers.
Cheese, crackers, fruit, or savouries of your choice. ($60.00)
Other catering can be provided.
Own camera and we can take photos for you. Professional photographer separate to this package.
The opportunity to relax and wind down following the ceremony.
Max 8 guests.
Package Two

NZD$1,150.00

Prepared personal wedding ceremony.
Celebrant services.
A folder to keep the ceremony in.
My home as the venue. Choice of deck or Balinese garden for your ceremony.
Provide own refreshments, glasses provided.
Two witnesses provided.
Own camera and we will take photos for you .
The opportunity to relax and wind down after the ceremony.
Max 8 guests.