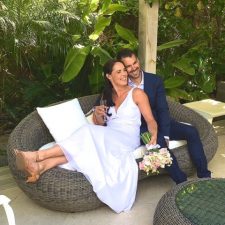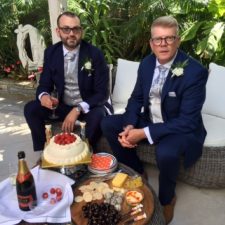 I'm Sheryl Mungall, registered Auckland Marriage Celebrant
I'd love to help make your special day even more memorable.
Choosing a celebrant can be a daunting task! You'll want to find someone with whom you have a connection. Someone who will make you, your partner and your guests feel comfortable. It's important to find someone who understands and respects your values. Someone who will go that extra mile in case of an unexpected mishap. And of course, you'll want to find someone who has the experience and skill to help make your day run as smoothly as possible.
I have been working as a registered marriage celebrant for over 25 years and have performed more than 740 wedding ceremonies. But each one has been an individual, personalised experience. Because I believe every couple is unique.
I like to meet with couples, either in person or by Skype, so that we can find out more about each other. We'll talk about your lives and your hopes for your journey together. We'll talk about your romance, how you met and how you knew they were 'the one'. And we'll talk about your preferences for your wedding ceremony.
Everyone is different, you see.
Everyone has their own unique story to share in their own special way. Whether you'd like to incorporate traditional religious elements into the service, or you'd prefer a non-denominational ceremony, or perhaps you're a same-gender couple wanting a discreet union in an intimate setting. Whatever you wish to have happen on your wedding day is entirely up to you and I can help make it happen. Nothing brings me greater joy than to see two people in love and wanting to make a formal commitment to each other – in whichever way makes them happy.
As well as performing the usual duties of a celebrant, I can also offer you extended services which may be helpful if you're travelling from overseas. I can provide witnesses, recommend a florist, caterer and photographer, organise the wedding cake, and I can even offer my own beautiful ocean-view home as a venue.
If you'd like to speak with me further, please do get in contact with me. I'd love to hear from you.
October 10, 2017

You can apply for a marriage licence online! The New Zealand Government website now enable
November 29, 2017

INTIMATE WEDDING VENUE AUCKLAND As well as my celebrant role, I'm also happy to provide

October 4, 2017

Public speaking has been listed as one of the biggest fears a person can have. Even the me